Website Development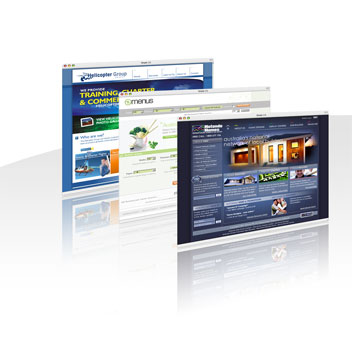 Website Development
Our website designers are skilled in search-engine-friendly website design methodology. Our web development team will provide you with professional web design services at very competitive prices. What we offer is professional web design and secure e-commerce solutions. What you will get is our knowledge, web development experience, and quality.
Features
Ease of use - Our hosted e-commerce package is an all-in-one solution designed to let you focus on your business. The page design is template-driven with an intuitive user interface allowing you to manage all aspects of system operations. We take you from start to finish in the completion of a fully operational, production-ready, e-commerce storefront.
Full control over your product presentation, pricing, and shipping options. Automatic order updates to your customers. Export orders into QuickBooks ® for fast and easy accounting integration.
Marketing tools - if they can't find you (or the product you want to sell), they won't come. Our e-commerce package gives you the ability to market your web store via mailing list or newsletter, gift certificates, coupons and the ability to run promotions.
Product analysis - advanced sales tools (product reviews and ratings, sales reports, customer referrals show where your buyers are coming from, and more.
Secure payment processing capabilities for credit cards and e-checks, PayPal®, Google Checkout®, merchant account, payment gateway, all installed and ready to go from day 1.
Shipping integration - shipping has always been, and will always be, the lynchpin that holds e-commerce together. We include automated and robust shipping calculation tie-ins to USPS, UPS and FedEx.
News, Events, FAQs - all the features required to build a powerful web presence with the ability to integrate events, news, and blogger systems whth easy content and layout management of your products and pages.
Training - We don't just build a site and leave, we provide training to you or your staff on how to maintain your site, how to promote your site, and how to manage your store.
Site support is also available. We can deliver every level of support for your site, from simple site changes to fully managing your site and products fulfilment. That's right, we can take orders and even package and ship your product for you!
We also have do-it-yourself packages including hosting starting at $249.00.
Learn more